Join retail and consumer goods industry experts for these casual "coffee shop" discussions where The Parker Avery Group team shares insights and realistic advice from past industry experiences and the firm's many consulting projects. Our podcast features occasional guests from the firm's roster of retail and CPG clients, along with partners and industry colleagues. Get to know the team's unique culture and why we form long-term relationships with so many of our clients.
Episodes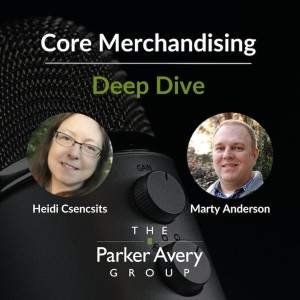 Wednesday Apr 20, 2022
Wednesday Apr 20, 2022
In this episode of Talk Retail to Me, we kick off a series that will focus on specific business areas across retail and CPG.  Over the next few months, we're going to take a deep dive into all areas of merchandising, planning, supply chain, forecasting, omnichannel, and more.
For each of these business areas, Parker Avery's team of experts gets into basics and details, covering questions like:
What does this area encompass?

What key capabilities are the most important?

What retailers or consumer brand companies excel at it?

What common mistakes or challenges do you see?

What innovations can improve a company's capabilities in this area?
This week we focus on core merchandising, featuring: 
To learn more about Parker Avery's retail and CPG experience and our array of consulting services, we invite you to visit: https://parkeravery.com/.
Featured on the Best 60 Retail Podcasts
Introduction music:  On My Way by Kevin MacLeod | Link: https://incompetech.filmmusic.io/song/4163-on-my-way | License: http://creativecommons.org/licenses/by/4.0/ | Cover image by Jorge Guillen from Pixabay.